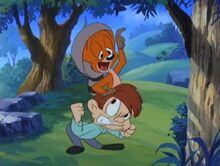 Vinnie the Deer is a cartoon character from the Warner Bros. animated television series, Tiny Toon Adventures. He is a "street"-smart adolescent male deer who lives in the Acme Forest. He is rarely seen on the show, but is the main protagonist in the Mr. Popular's Rules of Cool episode segment, Venison Anyone?. In Venison Anyone?, he foils all of Monty's attempts of hunting and killing him (similar to many Elmer and Bugs situations).
He makes a cameo appearance in the episode, New Class Day. He is shown at Acme Looniversity in the introduction to the segment, Sound Off, but is shown here with a clueless and dumbfounded demeanor and expression on his face.
Vinnie also appears briefly in the direct-to-video full-length feature film, Tiny Toon Adventures: How I Spent My Vacation, sporting the "new box look," when Dizzy Devil loses all of his fur by spinning in the summertime heat and puts a box over his "nude" body because of his embarrassment.
Vinnie is voiced by future Tony award winning Broadway star Brian Stokes Mitchell, credited as Brian Mitchell, Frank Welker voices him for his appearance in How I Spent My Vacation.
Gallery

((-}}
Community content is available under
CC-BY-SA
unless otherwise noted.