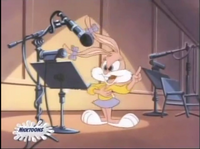 "This script stinks! It needs more comedy beets!"
This article is of a cast or crew member who worked on Tiny Toon Adventures who is still living to this day, and is written from a real-world perspective.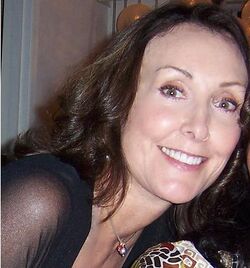 Tress MacNeille (born June 20, 1951) is an American voice actress.
Among her more famous roles are Dolph, Lunchlady Doris, Agnes Skinner, Lindsey Naegle, and The Crazy Old Cat Lady from The Simpsons, Mom, Hattie McDoogal, Petunia, Ndnd, Munda, Monique and various other characters in Futurama, Chip and Gadget Hackwrench from Chip and Dale: Rescue Rangers, Fang from Dave the Barbarian, Daisy Duck from Disney's House of Mouse, and she did a live action appearance as an angry anchorwoman in Elvira, Mistress of the Dark.
As a Warner Bros. actress, she is perhaps best known as the voice of Dot and Hello Nurse from Animaniacs, and Babs Bunny, Rhubella Rat, and various others from Tiny Toon Adventures.
Roles
Community content is available under
CC-BY-SA
unless otherwise noted.