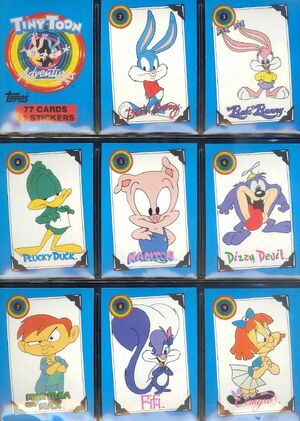 Topps is an American trading card company. It produced a collection of 77 cards and 11 stickers related to Tiny Toon Adventures in 1991.
On the front of the cards were images of characters or situations, and on the reverse side was text explaining information.
They are notable for assigning ages to various characters in the show which is generally a detail not elaborated on in the episodes.
Cards
Cards 2/3/4/7 list Buster/Babs/Plucky/Montana Max are 14 years old
Card 5/8/9/15 list Hamton/Fifi/Elmyra/Shirley are 13 years old

Shirley's includes the parenthesis (not counting past lives)

Card 6 lists Dizzy is 12 years old
Card 13/14 list Calamity/Beeper are 10 years old
Card 10 lists Sweetie is 3.5 years old.
Card 11 lists Furball is "Age: kitten-like"
Card 12 lists Gogo is "Age: 17lbs 4 oz"
Card 16 refers to Sneezer as a "baby mouse" but does not reference age
External Links