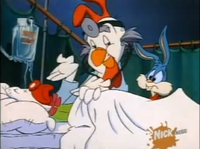 "I've got good news and bad news, the good news is, your joke died, the bad news is, who cares?"
This article is of a cast or crew member who worked on Tiny Toon Adventures who has unfortunately passed on, and is written from a real world perspective.
Anthony "Tony Pope" (March 22, 1947 - February 11, 2004), also known as "Anthony Mozdy," was an American voice actor, best known for providing the voice of Furby, as well as the voice of Newton Gimmick and other voices in the popular 1980s toy series The Adventures Of Teddy Ruxpin.
He voiced God in It's a Wonderful Tiny Toons Christmas Special.
Tony (aged 56) died on February 11, 2004 of complications caused by leg surgery. He was buried at Forest Lawn - Hollywood Hills Cemetery.
Community content is available under
CC-BY-SA
unless otherwise noted.