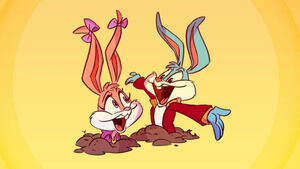 They're tiny! They're toony! They're back for a reboot-y!
Tiny Toons Looniversity is the upcoming series that follows the Tiny Toons into their college years at the Acme Looniversity.
Development
The series was announced 25 October 2020 on the Amblin website and is set to release on HBO Max and Cartoon Network. According to that report, the episodes will be a half hour long, and two seasons have already been ordered. Steven Spielberg returns as executive producer, alongside Sam Register, Justin Falvey, and Darryl Frank, while Erin Gibson will serve as showrunner and co-executive producer.
It was announced 15 July 2021 that Jeff Bergman will reprise his roles as Bugs Bunny, Sylvester, and Foghorn Leghorn.[1]
Trivia
Elmyra Duff will not appear, according to her voice actress, Cree Summer, but it was mentioned that she might make a cameo returning to Acme Acres.
Charlie Adler has not been invited to reprise his role as Buster Bunny, according to his Twitter.
On 17 February 2021, it was announced that the new series will be renewed for a second season.
It was announced that the series will premiere in 2022.
On 12 July 2021, Candi Milo, who voiced Sweetie in Tiny Toon Adventures, confirmed in a interview in Of Course You Realize This Means Podcast that she will voice Granny in the series, however, she did not say whether she will reprise her role as Sweetie.
On 15 July 2021, Jeff Bergman confirmed in a article on Syfy that he will reprise his role as Bugs Bunny, and he also confirmed that Bugs will be a professor.
References