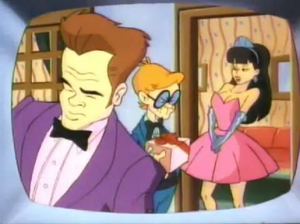 Theo is the stage name of a actor who appears in the tv series Thirteensomething in the episode of the same name. He was voiced Rob Paulsen.
Description
Theo is a teenage boy with brown hair, wearing black shirt with a dark blue jacket, blue jeans and black shoes.
History
In his first appearance, he appears in the title opening, where he is shown with a birthday cake. Later in a episode, after seeing Jason asking Sasha to the prom, Sasha told both of them that they should go together since they were friends. He later appear again in a episode where Sasha ruined his sandwich after she told him that every since Babs' character (Babs Bunawalskioversmith) came to town, he hates everything she does. After the taping, the actor playing Theo and The actress playing Sasha sees the crew watching at a rerun of a Tiny Toon episode and when the actress said she want to be on that show, the actor told her told her only toons can be on the show. he didn't appear near the end where Sasha and the other crew got run over by a train.
Community content is available under
CC-BY-SA
unless otherwise noted.