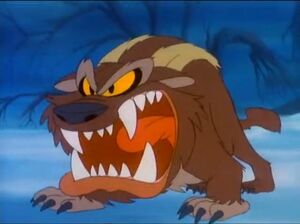 The Wolverine is a character in Tiny Toon Adventures. He is a parody of the Wolf from Peter and the Wolf. He was voiced by Frank Welker.
Buster and the Wolverine
The Wolverine first appears in the Season 1 episode "Buster and the Wolverine". In a parody of Peter and the Wolf, Buster and his friends are practicing their instruments when they are rudely interrupted and chased by the Wolverine. When they reach shelter in Buster's burrow, they all agree they have to get rid of him. Plucky suggests drawing straws, with the loser having to capture the Wolverine. Hamton gets the longest straw and thus is chosen. He tries to capture the Wolverine but ends up getting captured himself. The Wolverine makes tracks to throw Buster and his friends off, so they split up to find him and rescue Hamton. Plucky, Babs, Furrball and Sweetie end up captured and Buster is left to save them. He arrives at the Wolverine's cave to find out his friends are eaten, but still alive. He helps his friends escape and the Wolverine chases them towards the Acme Acres Cereal Bowl, where they outsmart and eventually capture him.
Washingtoon
The Wolverine returns in the Season 3 episode "Washingtoon", chasing Buster and Babs at the beginning of the cartoon. To distract him, they send Plucky in their place (he claims he's not in the cartoon). When that fails, they resort to dropping heavy items on him. Before they could proceed to drop more heavy items on him, his tooniness is taken away by the Adults Against Funny Cartoons Chairperson and he becomes very sensitive to pain, and this time he could talk. He is once again voiced by Frank Welker.
How I Spent My Vacation
The Wolverine is in the audience on Tupelo Toad's ferry, and he joins in the chase when the other attendees chase Buster and Babs, he is not seen with the other villains when they reach dry land.
Video Games
Outside Tiny Toon Adventures
The Wolverine appears with his wife in the Animaniacs cartoon, Noah's Lark, where they are the two wolverines that board the ark. They attack Noah, who describes them as the "Lon Chaney Jr.'s of the Animal Kingdom".
Gallery