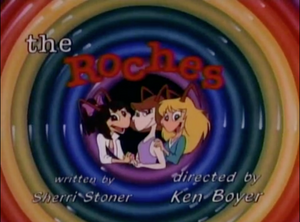 The Roches are an all-cockroach girl band who appeared in the "New Character Day" episode segment "The Roches".
Members
Maggie Roche: The oldest and leader of the Roches sisters, she has brown hair, brown eyes, and wears a light purple dress and light purple shoes.
Terre Roche: The middle of the Roches sisters, she has blonde hair, blue-green eyes, and wears a long-sleeved blue shirt with a white V collar, a light green skirt and blue shoes.
Suzzy Roche: The youngest of the Roches sisters, she has black hair with a pink bow tied to it, and wears a pink shirt with a open white jacket, black shorts and pink shoes.
Trivia
The Roches are based on the live-action all girl/sister band, The Roches, Even their names and appearance are based on them
The Real Roches sisters did the voice of their bug counterparts.
The Roches mentioned that they knew The Beatles when they lived in Liverpool. It's implied that The Beatles were actual beetles in the short.