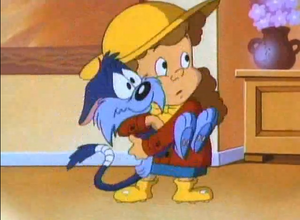 The Rich Little Girl is a one-time character in Tiny Toon Adventures. She appears in the "A Cat's Eye View" episode segment "Homeward Bound".
Appearance
When she first appears, The Rich Little Girl is a millionaire's daughter. She is the small girl with brown hair, who wears a yellow hat, a blue shirt with a red jacket over it, and yellow boots, but towards the end of the cartoon, she wears a blue dress with a white collar on it.
History
She first appears when Furrball looks into the window of her apartment and sees her rubbing The Kitten just before she takes a walk outside with her mother and father for a while. Later in the cartoon, she appears when she, her mom and father return. As the Rich Girl notices Furrball, she tries to convince her parents to let her keep him, but the rich couple refuses as, they think he has fleas. She, along with the kitten, is sad that Furrball is not wanted in their apartment. After Furrball is kicked out, she is then seen having a home-cooked dinner from her family when she notices The Peasant Boy and waves at him, only to have her father pull down the window shade.
Trivia
Gallery
Community content is available under
CC-BY-SA
unless otherwise noted.