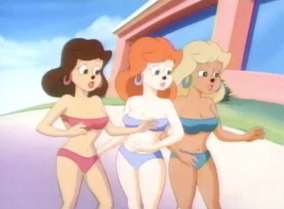 The Pool Babes are three hot babes and one-time characters who appear in the Pledge Week episode segment, Lifeguard Lunacy.  All three are voiced by Kath Soucie.
Appearance
Interestingly, all three babes share the same physical appearance, height and hairstyle. but different skin, hair and swimsuit colors.
The one on the left is shown to have light tan skin with brown hair, and wears a dark pink bikini, dark pink earrings, and high heels.
The one in the middle is shown to have pale skin with orange hair, and wears a light purple bikini, light purple earrings, and high heels.
The one on the right is shown to have a very heavy tan skin with blonde hair, and wears a blue green bikini, blue green earrings, and high heels.
History
They first appears at the pool as Arnold is showing them his muscles while sitting in a pool chair. Later, when Mary tries to retrive her inner that Calamity borrowed from her to save Sneezer, it snapped and hit Arnold as one of them was going to rub tanning lotion on him and another was going to give him a drink. Near the end of the cartoon, after they see Calamity tired after saving Arnold, they all run to him and comfort him, while Arnold thought they were running to comfort him instead.
Trivia
The gag credit for the episode they appear in, Pledge Week, implies that they are animals of an indeterminate species.
Community content is available under
CC-BY-SA
unless otherwise noted.