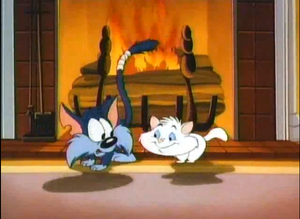 The Kitten
is a one-time character on
Tiny Toon Adventures
. She appears in the 
A Cat's Eye View
 episode segment, 
Homeward Bound
.
Appearance
The Kitten is shown to be a white-fur cat with light-blue eyes.
History
She first appears when Furrball looks into a window and sees her getting her tummy rubbed by The Rich Little Girl before her, her mom and father leave to go for a walk. After they leave, Furrball squeaks at the window to get the kitten's attention. The kitten then walks over to him and leads him inside through the cat door. After getting into apartment, The Kitten leads Furrball to the fire place to get warm and then both of them play around by having Furrball chasing her. Then, the Kitten's Father sees Furrball and looks angry at him for coming into their home. Despite her parents' wishes, the kitten continues playing with Furrball. The Kitten pushes a toy mouse towards Furrball so they can play together. At one point, when Furrball plays with the mouse, he accidentally bumps into a table with a vase on it. The kitten's Father catches the vase before it falls to the floor and attempts to get Furrball to leave. Towards the end of the cartoon, after Furrball is kicked out by the Rich Girl's Father, both The Kitten and The Rich Little Girl are shown to be sad that Furrball is not wanted in their apartment.
Trivia
The Kitten is one of many animals to befriend Furrball, despite the fact that he's a Alley Cat (not counting the episodes when Elmyra Duff owns him as one of her pets, or the day when Mary Melody took him to her apartment).
Community content is available under
CC-BY-SA
unless otherwise noted.