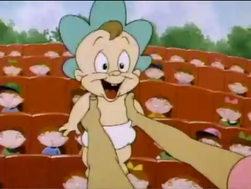 The Angry Father's Son
is a character who makes a one-time appearance on
Tiny Toon Adventures
. He appears in the
Music Day
episode segment,
Ruffled Ruffee
. He is a human baby dressed in a diaper and a green bonnet, and is the infant son of
The Angry Father
.
Appearance on the Show
Throughout Ruffled Ruffee, Buster Bunny, disguised as a baby, spoils Ruffee's concert by ruining each of his songs, the last of which causes the children to cry. Towards the end of the segment, Ruffee reaches his breaking point, and tries to yell at the disguised Buster, but ends up yelling at the Angry Father's Son, since he is dressed in a nearly identical way. This gets this attention of his Father, who pokes Ruffee's shoulder and asks him why he's yelling at him. This gets Ruffee to realize he wasn't yelling at Buster, and when he looks over at the Angry Father's Son, he puts him down gently, laughing nervously. The Angry Father then picks up Ruffee, telling him that no one yells at his son, then beats him up.
Trivia
The Angry Father's Son appears to be the only infant attending Ruffee's concert, as all the other children appear to be toddlers.
Community content is available under
CC-BY-SA
unless otherwise noted.