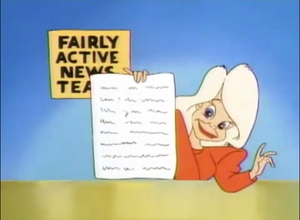 Teeny Tonny is a minor character on Tiny Toon Adventures. She appears in the episode, Take Elmyra Please. She is voiced by Tress MacNeille.
Appearance on The Show
She appears in Take Elmyra Please during the newcast when it is announced that MacArthur Duff has invented a new clean-burning fuel made from cholesterol. She shows the viewers the transcript until she is told by the manager to read it. Later in the episode, she arrives at the Duff's House to interview the family, during which, Duncan tries to tell them that Elmyra's been kidnapped, but Emily repeatedly shushes him. When a parade held by Arthur Jabba tells them that Elmyra's been kidnapped and they must surrender the fuel formula, Duncan leads his family, as well as the news team and the police to the warehouse, where Elmyra is being held for ransom by Arthur's minions, George and Leonard. At the end of the episode, she appears in another newscast announcing the rescue of Elmyra.
Community content is available under
CC-BY-SA
unless otherwise noted.