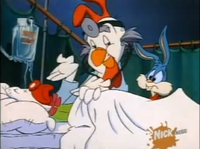 "I've got good news and bad news, the good news is, your joke died, the bad news is, who cares?"
This article is of a cast or crew member who worked on Tiny Toon Adventures who has unfortunately passed on, and is written from a real world perspective.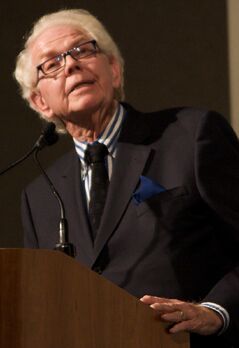 Stanley Victor "Stan" Freberg (born August 17, 1926, died April 7, 2015) is an American comedian, author, recording artist, voice actor, radio personality, puppeteer, and advertising creative director.
Stan was one of the recurring voice artists for the Looney Tunes and Merrie Melodies cartoons. He often voiced big "dumb" characters such as Junior Bear of the Three Bears and Pete Puma, and voiced the comic foils of Mel Blanc's straight men such as Bertie of Hubie and Bertie, Tosh of Mac and Tosh aka the Goofy Gophers, and Hector the Terrier as the stooge for Spike the Bulldog. He is also notable as being the second voice actor to receive sole credit for the Friz Freleng cartoon Three Little Bops.
Stan reprised the roles of Pete Puma and Junior Bear on Tiny Toons.
Freberg died on April 7, 2015, at the age of 88, at the UCLA Medical Center, Santa Monica, in Santa Monica, California, from Pneumonia.
Roles
Community content is available under
CC-BY-SA
unless otherwise noted.