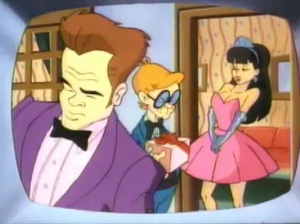 Sasha is the stage name of a actress who appears in the tv series Thirteensomething in the episode "Thirteensomething". She was voiced by "Tress MacNeille.  
Description
Sasha is a teenage girl with black hair, wearing a pink headband and pink shirt, blue jeans and black shoes.
History
She appears in the title sequence, where she is shown with a birthday cake surrounded by her friends. Later in an episode of Thirteensomething, she learns that a guy name Jason wants to ask her to the prom, but she tells him that she is going to the prom with her boyfriend Theo. Then she suggests that they should go together since they are friends. She later appears again in another episode of Thirteensomething, where she, after messing up Theo's sandwich, tells him that ever since Babs' character, (Babs Bunawalskioversmith) came to town, she hate everythings she does, then when Babs' character appears and says that all she wanted was a friend, both of them hugged, ending the scene. When Babs sees the crew watching a rerun of a Tiny Toon Adventures episode, the actress playing her says she wishes to be on that show, but the actor playing Theo tells her only toons can be on the show. Near the end of the episode, After Babs' contract gets renewed for five more years, in an episode of Thirteensomething, Sasha is in the living room with Babs' character, saying that she's glad her army dad isn't going to be transfor and is going to stay for a long time. Suddenly Buster (dressed like a human) appears and tells Babs he misses her. Buster and Babs then reveal themselves as toons and use the old tunnel paint to leave the studio as Sasha, along with the other staff members, get hit by a train.