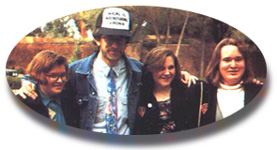 Sarah Creef is one of the three eighth grade girls who wrote the script for the episode "Buster And Babs Go Hawaiian".
Description
She is a thirteen-year-old girl with short red hair, who wears a blue sweater and purple pants, but it is unknown what kind of shoes she wears due to her feet being blocked by her computer. She is also the only one wearing glasses.
History
She and her friends were first mentioned by Steven Spielberg when Buster complained that the cartoon didn't star them and he gave them the script called, "Buster and Babs Go Hawaiian" at first they both loved the idea, However when Babs read they were going on a plane, Buster hated the idea. Before they began shooting the episode, Buster decided to talk to the writers about the plane scene. Because they refused to change it, Buster had no choice but to accept it, and so he reluctantly did.
Trivia
Sarah, Renee, and Amy are based on three real girls who wrote the script for the cartoon.
Sarah was voiced by Tress MacNeille, who is best known for voicing Babs Bunny.
Writing Credits
Gallery