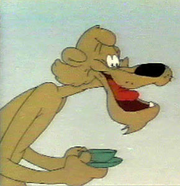 Pete Puma is a minor Looney Tunes and Merry Melodies star that appears occasionally in Tiny Toon Adventures.
Appearances on Tiny Toon Adventures
Pete is voiced by Stan Freberg on Tiny Toon Adventures and all prior appearances on the Looney Tunes shorts and films. Joe Alaskey voices him in the Going Places episode segment, When You're Hot...
Pete appears in the Viewer Mail Day episode segment, Buttering up the Buttfields as a chef for the Acme Acres Country Club. Plucky, who is working as a waiter, informs him that the Buttfields have ordered Canard A La'Orange. Pete, having read French Cooking for Morons, finds out that Canard A La'Orange is roast duck in orange sauce. He tries to cook Plucky, even when Plucky tries to cook Buster as a substitute for the Buttfields. Buster distracts Pete by telling him that roast duck is best served with lumpy mashed potatoes. The pot in which the mashed potatoes are in is attached to a breakaway shelf, and a bunch of heavy objects on the shelf fall on Pete and knock him out.
Pete appears briefly in the episode, Who Bopped Bugs Bunny? where he checks on both Bugs Bunny and Daffy Duck during Bugs' award ceremony. After Sappy Stanley knocks out Bugs while his robot copy talks to Daffy, the real Stanley returns to the stage to introduce Bugs, who doesn't show up. When Pete checks up on Bugs to tell him he's supposed to be on stage, he is shocked to find him having gone missing.
Pete appears in the Going Places episode segment, When You're Hot... as the Acme Acres Firehouse chief. He teaches the students about the various things that can start fires by setting them on fire. The most notable example is a rocket, which sets Acme Looniversity on fire. Pete's incompetence makes Buster question, "Why is this guy on our show?"
Pete appears in several Tiny Toon Adventures episodes as the Acme Looniversity janitor. One such example is in the wraparounds for the Season 1 episode, Looniversity Daze.
Gallery
Community content is available under
CC-BY-SA
unless otherwise noted.