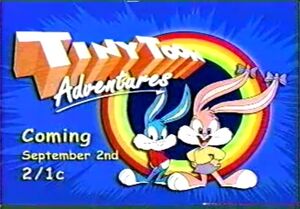 Nickelodeon, or Nick for short, is a children's cable network that began broadcasting in 1979. Owned by the MTV Networks Kids & Family Group, a unit of the Viacom Media Networks division of Viacom (formerly controlled by Time Warner's predecessor, Warner Communications, and Warner-Amex Satellite Entertainment), it is known for such programs as SpongeBob SquarePants, The Fairly Oddparents, iCarly, and Drake & Josh.
Following its departure from Fox Kids in 1995, Tiny Toon Adventures aired in reruns on Nickelodeon from 1995 to 1999. During this time, the episodes were always bookended with animated bumpers depicting a group of kids going to a theater to watch the show right before it began, and then cheering after it was finished. Notably, it was on Nickelodeon that they were able to air the episode "Toons from the Crypt", which Fox had refused to run. Tiny Toons eventually left Nickelodeon in September 1999, when its contract to run on the network expired, and the reruns were sent to Cartoon Network for the next three years.
On September 2, 2002, the Tiny Toons reruns returned to Nickelodeon for another two years. The show itself was presented no differently than before, but the shot of the WB Shield zooming out at the beginning of the intro sequence was replaced with a fade from black straight to the Tiny Toons logo.
In 2003, Tiny Toons reruns were then aired on Nick's sister network, Nicktoons TV, and remained there until it relaunced as the Nicktoons Network in 2005.
References to Nickelodeon on Tiny Toon Adventures
| Picture | Season | Episode Number | Episode Name | Reference |
| --- | --- | --- | --- | --- |
| | 1 | 27 | Europe in 30 Minutes | The game show, Sloppy Dirty Dare is a parody of one of Nickelodeon's game shows, Double Dare. |
| | | | Tiny Toon Adventures: Spring Break Special | While traveling home from Fort Lauderdale at the end of the special, the Tiny Toons gang's bus runs over Rank and Stumpy, a chicken and a squirrel who resemble Ren and Stimpy. Given that Ren & Stimpy creator John Kricfalusi reportedly hated Tiny Toons, despite the fact that he designed the character of Sappy Stanley for the episode, Who Bopped Bugs Bunny?, this joke was likely done to get back at his criticism. |
Connections
Community content is available under
CC-BY-SA
unless otherwise noted.