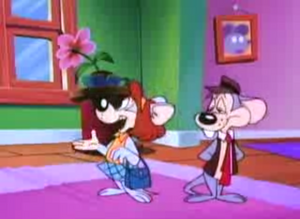 Mr. and Mrs. Mouse
are
Li'l Sneezer's
parents who make a one-time appearance on
Tiny Toon Adventures
. Mr. Mouse is voiced by
Rob Paulsen
, and Mrs. Mouse is voiced by
Kath Soucie
(like Sneezer).
Mr. and Mrs. Mouse make a brief appearance in the Test Stress episode segment, Li'l Sneezer. Mrs. Mouse's silhouette is seen when an agent inside a building tells her they will send over their next available babysitter to 14 and 1/2 Mouse Hole Lane. Furrball, who is looking for a mouse so he can pass a test that Sylvester considers, "worthy of the great cartoon cats", overhears and writes down the address. A little later, when Furrball arrives at the address, disguised in a wig and dress, Mrs. Mouse tells him that they are leaving to see a movie, and that their son is taking a nap and there shouldn't be any trouble at all. On their way out, Mr. Mouse remarks to Mrs. Mouse that Furrball is the biggest babysitter that he had ever seen.
Trivia
Mr. and Mrs. Mouse bear a striking resemblance to Hubie and Bertie.
Mr. and Mrs. Mouse are two of the few parents on the show whose faces are seen.
Community content is available under
CC-BY-SA
unless otherwise noted.