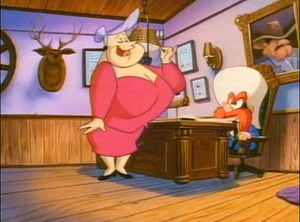 Miss Conduct 
is the Headmistress of Miss Conduct's Advanced School of Immaculate Manners, Tact Tech. She appears in the
Best of Buster Day
episode segment,
Compromising Principals.
Her name is an obvious play on the word "misconduct". She is voiced by
Tress MacNeille
.
Appearance
Miss Conduct seems to be a large elderly woman (in her early's 50's) with a british accent, wearing a red-velvet dress suit and black high heels, and she has gray hair.
History 
Miss Conduct first appears in Vice Principal Yosemite Sam's office when she tells him that she might consider hiring him as the new Vice Principal at Miss Conduct's Advanced School of Immaculate Manners, Tact Tech, if the tour of the school goes well. When Buster, Babs, and Plcuky hear about Sam's plan to leave the school (before hearing that he had planed a "Student of the Day" contest, in which the student on his or her best behavior will help Sam earn his promotion) and plan to sabotage it.
On the first stop of their tour, Sam and Ms. Conduct head to Economics 101, where in Sam's view, the class was behaving well and Buster was teaching the class about the rise of anvil sales and the falls of the anvils themselves, but when Miss Conduct views it, the classroom turned into a casino and she gave Sam his first strike.
On the second stop of their tour, Sam and Ms. Conduct head to the cafeteria, and Sam decided go ahead of Ms. Conduct to ensure that nothing went wrong. In Sam's view, the cafeteria is decorated like a fancy restaurant and Buster is dressed like a Maitre D'. Sam lets Ms. Conduct in, but in her view, the cafeteria is sloppy, and Buster is dressed like a cook. He is very rude to her, calls her "Grandma", and gives her a rather green roast beef before she officially decides on what to eat. When she exits the cafeteria, she gives Sam, who is awaiting her opinion, his second strike.
The third and final stop of their tour is Science 101. When Sam takes a look, inside the class, Buster, dressed as Albert Einstein, is teaching the class that the object of science is to understand the universe and other very large things. He lets Ms. Conduct go inside, but prays for things not to go wrong. When Ms. Conduct goes inside, Buster, still dressed like Einstein, tells her that the class is studying about lower life forms. Plucky removes her shoes,  and she faints, landing on a metal table that she gets strapped to. Buster decides to test the southern reflexes, prompting Barky Marky to lick her bare feet, tickling her. Ms. Conduct tells Buster that he and the other students are driving her out of his mind, and Buster tells her that he has a remedy for such ailments. Buster then puts a mind-switching helmet on her, and another on a potato, then turns on a machine that transfers her mind into the body of a potato. With her mind in the potato's body, she bounces away and tells Sam that she's never been so insulted in her whole life. Sam laughs at the sight of a talking potato, until she kicks him in the shin, and tells him he will forget about his promotion, and that she's leaving.
Community content is available under
CC-BY-SA
unless otherwise noted.