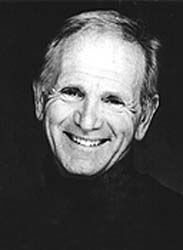 Michael Patrick Bell (born 30 July 1938) is an American actor and voice artist.
Among some of his more famous voice roles are Grouchy Smurf, Lazy Smurf, Handy Smurf, and Johan the Human in Smurfs, Prowl, Scrapper, Sideswipe, Bombshell, First Aid, Swoop, Gort, Brainstorm, and Dr. Fujiyama in The Transformers and The Transformers: The Movie, Duke, Xamot, Blowtorch, and numerous others in Marvel's G.I. Joe, G.I. Joe: The Revenge of Cobra, and G.I. Joe: A Real American Hero, Bruce Banner/The Hulk in the 1982 The Incredible Hulk animated series, and Drew Pickles, Charles Finster Sr., and Boris Kropotkin in Rugrats.
He voiced Michael Keaton as Batman in the Tiny Toon Adventures episode "Hollywood Plucky".
Roles