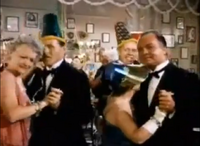 "Think I'll see if the guys in 'First Class' are having this much fun. I'm sure it's not all it's cracked up to be."
This article is about the Real World.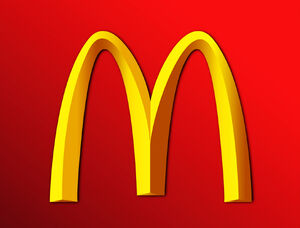 McDonald's is a popular chain of fast-food restaurants, which is identified by its golden M logo. It was founded in 1940 by Roy McDonald and Richard McDonald and made into a corporation by Ray Kroc. Over the years, they have had several Happy Meal promotions based on the Tiny Toon Adventures franchise.
1991: Flip Cars
In 1991, McDonald's introduced the Tiny Toons to the Happy Meal through flip cars. Each car had two characters from the show and a different car was sold each week.
The commercial featured Buster, Babs, Plucky, Hamton, and Elmyra hanging out in a car with a little boy and his father. As the father is ordering his food, Plucky orders 100 Happy Meals (when the father meant to order one). After the toys are advertised, the father is given the 100 Happy Meals and asks "Now what?" Hamton replies with "Better pop the trunk!" and dons a bib with the McDonald's logo. Charlie Adler, Tress MacNeille, Joe Alaskey, Don Messick, and Cree Summer all provided the voices of their respective characters, just as they did in the TV series.
In addition, McDonald's also released variations of Plucky Duck and Gogo Dodo for children under the age of three. Due to these toys not being advertised, aimed towards toddlers, and parents having to ask for them specifically while ordering their food, these toys are extremely rare.
1992: Wacky Rollers
In 1992, the Tiny Toons returned to the Happy Meal through wacky rollers cars. There were eight cars, each one featuring at least one character from the show. As each car moved, a various action was performed.
1994: Happy Birthday Happy Meal
In 1994, McDonald's celebrated the 15th anniversary of the Happy Meal with the Happy Birthday Happy Meal train, based on Happy Meal promotions they had over the years. Each toy had wheels and linked with each other to form a birthday train. The 15 franchises were Ronald & Friends, Tiny Toon Adventures, E.T. the Extra-terrestrial, Sonic the Hedgehog, 101 Dalmatians, The Little Mermaid, Barbie, Hot Wheels, Tonka, Cabbage Patch Kids, Berenstain Bears, Peanuts, Muppet Babies, Looney Tunes, and the Happy Meal Guys.
The Tiny Toons toy features Buster Bunny holding a cake as Babs Bunny tries to put the candle on top. The ladder wobbles as the train car moves.
One commercial for the promotion featured Buster and Babs appearing towards the end. As Babs attempts to put the candle on top of the cake, she falls in, prompting Buster to say, "Babs Bunny, you party animal!" at her. In this commercial, Buster and Babs were voiced by John Kassir and Tress MacNeille, respectively.
Unreleased Happy Meal toys
At some unknown point in time, other Tiny Toon Adventures Happy Meal toys were planned. These included an ice-skating Buster and Babs figurine, which skated when the wheel was spun, a Dizzy Devil football top, which spun when the string was pulled, and Montana Max driving a snowmobile, with snowballs that bounced when the button was pressed. While these toys were never officially released, conceptual art of them can be seen in the gallery section below.
Gallery
Commercials
Connections
Charlie Adler voiced the Hamburglar in various McDonald's commercials and in the Wacky Adventures of Ronald McDonald cartoon series.
Community content is available under
CC-BY-SA
unless otherwise noted.