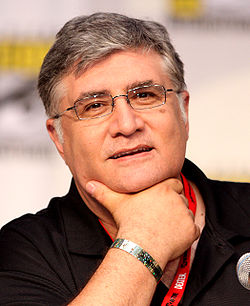 Maurice LaMarche (born 30 March 1958) is an Emmy Award-winning Canadian voice-actor and former stand-up comedian. He is best known for his voice over work in series such as Futurama, Animaniacs, Pinky and the Brain, and The Real Ghostbusters.
His Tiny Toon Adventures voice roles include Dizzy Devil, Yosemite Sam, Tasmanian Devil, Gossamer, and various other characters.
He also replaced Joe Alaskey as the voice of Plucky Duck for the remaining episodes of the series. Alaskey later rerecorded LaMarche's lines when he was asked to return for the show. He also voiced The Brain in Tiny Toons' Night Ghoulery and the spin-off, Pinky, Elmyra & the Brain.
Roles