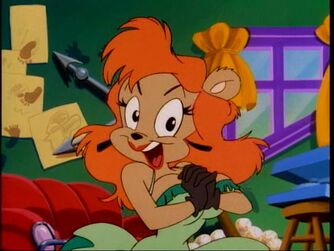 Julie Bruin is an anthropomorphic female bear who appears in the Tiny Toon Music Television episode segment, Just Say Julie Bruin.  
Appearance
She is an anthropomorphic bear with red hair, who wears a green dress, black gloves and black high-heels. She also appears to have a large bust. 
History
She first appears after the opening credits of her sketch, where she is laying down what seems to be a different version of Twister. She then tells the viewers that she's having a 60's tango party with Buster and Babs, who said they invited Madonna to her party. When Buster and Babs arrive, Julie doesn't see Madonna, and asks where she is. Buster and Babs tell her that they didn't invite Madonna. Instead, they invited Fuddonna (who is none other than Elmer Fudd in a rather creepy outfit), much to Julie's dismay. After everybody arrives and is told by Julie to stand on a different Triangle, Julie puts on a music video staring Montana Max singing, Money (That's What I Want). She later makes a non-speaking appearance in the same music video on Monty's cruise ship, where he tosses her into the ocean. He throws a lifesaver for her to float on, but she gets hit in the head with it instead.
Trivia
Julie Bruin is not only a parody of Julie Brown, but is also voiced by her as well. In fact, her show, Just Say Julie Bruin is a parody of Just Say Julie, which stars Julie Brown. The show aired on MTV and lasted from February 15, 1989 to February 1, 1992.
Julie Brown would later voice a female character called Minerva Mink from another WB cartoon show called, Animaniacs.
Gallery
Community content is available under
CC-BY-SA
unless otherwise noted.