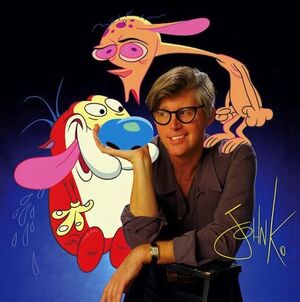 Michael John Kricfalusi (born 9 September 1955) is a Canadian director, producer, writer, animator, and voice actor. He is best known as the creator of the Nickelodeon animated TV series The Ren and Stimpy Show.
John Kricfalusi designed the character of Sappy Stanley for the episode "Who Bopped Bugs Bunny?"
He, Jim Smith, and Bob Camp also worked on the storyboards for "Hi, Spirits", which was meant to be the second segment of the episode "The Return of the Acme Acres Zone", while they were waiting for Nickelodeon to greenlight Ren and Stimpy. Although the segment was never produced due to Steven Spielberg replacing it with the newly made "Boo Ha Ha", "Hi Spirits" later became an episode of Ren and Stimpy entitled, "Haunted House", with the two title characters in the roles of Hamton J. Pig and Gogo Dodo.
Trivia
John Kricfalusi did not enjoy the work he did for Tiny Toon Adventures, and also gave negative reviews to the later animated works of Steven Spielberg, such as We're Back! A Dinosaurs Story and Animaniacs under the pseudonym "Tom Payne" in Issue #3 of Wild Cartoon Kingdom magazine, the latter of which he wrote before he saw the show. In retaliation, Tiny Toon Spring Break had Rank and Stumpy, rooster and squirrel parodies of Ren and Stimpy, get run over by the Tiny Toons bus near the end.
Community content is available under
CC-BY-SA
unless otherwise noted.