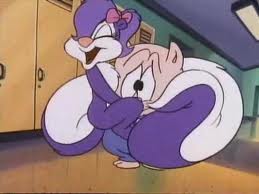 The 
Hamton and Fifi Relationship
is one of the many relationships of the series. It focuses on the relationship between
Hamton J. Pig
and
Fifi La Fume
.
About
Unlike many relationships from this series, Hamton and Fifi's relationship might be considered by some fans to be a relationship of convenience, due to the fact that both characters are the only ones who don't have a specific love interest of their own species, and the fact that both are counterparts among the two three-character teams that form the core of the main cast, similar to Buster being with Babs and Plucky being with Shirley.
Episodes featuring the two as a couple/love interests
Episodes with Fifi featuring someone other than Hamton as her love interest
Episodes with Hamton featuring someone other than Fifi as his love interest
Trivia
Fans of the series have mixed reactions towards Hamton and Fifi's relationship; many like the idea of them as a couple, while others prefer to ship Fifi with one of characters she has chased (typically Calamity or Furrball), or with an OC, or would simply rather that Fifi remain single. (See this thread from 1993 on the alt.tv.tiny-toon Google Groups page for an early example of the long-standing debate over the precise nature of Hamton and Fifi's relationship)
Community content is available under
CC-BY-SA
unless otherwise noted.