Grovely is Montana Max's butler. He was voiced by Charlie Adler.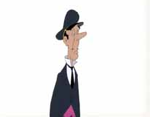 Appearances on the Show
Season 1
Journey to the Center of Acme Acres (Minor role)
Looking Out For the Little Guy, episode segment, The Re-Return of the Toxic Revenger (Minor role)
The Acme Acres Zone, episode segment, A Walk on the Flip Side (Minor role)
You Asked For it, episode segment, Sleight of Hare (Minor role)
The Wacko World of Sports, episode segment, Tennis The Menace (Cameo)
Tiny Toon Music Television, music video, Money (That's What I Want) (Cameo)
Season 2
Season 3
Appearances in Video Games
Tiny Toon Adventures for NES: Grovely appears in the Monty's Mansion stage. He turns out the lights, making the stage more difficult to see.
Tiny Toon Adventures 2: Trouble in Wackyland for NES: He is the guard for the Fun House stage, and will only let Buster in if either he has enough gold tickets (4) or normal tickets (50).
Quotes
"Very good, Sir."
"Why don't we just turn on the pool faucet as usual, Sir?"
"Ladies, Gentlemen, and you too, Master Monty."
Trivia
It is revealed in the Best of Buster Day episode segment, Maid to Re-order, that Grovely lives in Monty's Mansion with his family. Although he has a fairly primary role in this episode, his appearance and personality differ. He is much older and his hair is gray. He also has a mustache, which is also gray. This version of him has a wife and two kids (one boy, one girl), and he seems slightly kinder. This incarnation appeared to be based on Max's one-time butler, Jeeves, from the Life in the 90s episode segment, Paper Trained, implying that the two butlers were merged into a single character for the episode, having Jeeves' design and Grovely's identity and voice.
Gallery
Community content is available under
CC-BY-SA
unless otherwise noted.