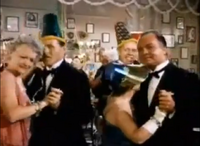 "Think I'll see if the guys in 'First Class' are having this much fun. I'm sure it's not all it's cracked up to be."
This article is about the Real World.
The Little Golden Book Company is a company formerly owned by Western Publishing. They are notable for publishing story books based on various children's franchises (perhaps most notably Disney and Sesame Street), as well as their own characters such as The Poky Little Puppy, Scuffy the Tugboat, Tootle the Train, and a few others. The company is now owned by Random House.
In the 1990's, various Tiny Toon Adventures story books were published by the Little Golden Book Company. These books included adaptations of TTA episodes as well as original stories (Lost in the Fun House and Happy Birthday, Babs!).
Little Golden Books
Happy Birthday, Babs!
The Adventures of Buster Hood (Based on the Weirdest Story Ever Told episode segment, Robin Hare)
Buster Bunny and the Best Friends Ever
Lost in the Fun House
Golden Look-Look Books
Golden Board Books
Sweetie in "What's For Lunch?"
First Little Golden Books
The Babysitter Blues
The Sweetie Book of ABC
Golden Sound Story Books
Golden Easy Readers
Gallery
Community content is available under
CC-BY-SA
unless otherwise noted.