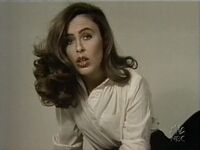 Gail Matthius (born 14 January 1953) is an American comedienne, actress, and voice artist. She voiced Shirley the Loon in Tiny Toon Adventures.
She was a player in Saturday Night Live during the 1980-1981 season. In Saturday Night Live, Matthius was known for her character, Valley Girl Vicki, which, vocally, was a dry-run version of what Shirley the Loon would sound like. Matthius' other characters were Roweena, a hairdresser with a Minnesota accent, and Frances Lively, wife of game show host, Phil Lively, played by her "Weekend Update" co-anchor, Charles Rocket. Matthius' celebrity impressions in SNL include singer Irene Cara, First Lady Nancy Reagan, model and actress Brooke Shields, and Bentix sexual harassment scandal victim Mary Cunningham.
Matthius' post-SNL career included appearances in live-action TV shows such as Laugh Trax, another sketch show where she played her Valley Girl Vicki character, and Simon and Simon. She also appeared in movies such as Airplane II, and voice acted in 1990s children's cartoons, such as voicing Martha Generic in Bobby's World.
Roles