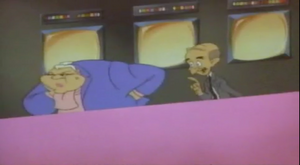 Fran and Edward are two televison producers who appeared in the episodes, Thirteensomething and It's A Wonderful Tiny Toons Christmas Special. They are voiced by Valri Bromfield and Joe Alaskey, respectively.
Appearance
Fran is an overweight woman with blonde hair who wears a blue business suit and black high heels. Edward is a thin man with brown hair that is thinning who wears a gray business suit.
History
They first appeared in the episode, Thirteensomething. While holding auditions for a new female character for the show, Edward seemed to like the last actress, but Fran gave him a dirty look, told him, "he was so lost" and called in the next girl, Babs (who went by the surname Bunawalskioversmith instead of Bunny), and when she tried out, Edward was going say she stunk, but Fran stopped him and told her she got the part. After a month, Babs' contract was up but Fran decided to renew her contract for five more years, making Babs stay on the show. Later, when Buster appeared (dressed like Alabester's twin brother), Edward loved the acting, but when Fran said "he was so lost" again, he repiled, "no dear you are lost", which caused her to fall in love with him and began kissing him. Edward's (but not Fran's) last appearance in that episode showed him gasping after learning that the two characters are really toons (while covered in pink lipstick).
They returned in It's a Wonderful Tiny Toons Christmas Special as the executives who allowed Buster to direct the special. When Buster cut Montana Max from the Christmas special from a leg he broke skiing in Aspen with Morgan Fairchild, Monty got revenge on him by sabotaging the special. Everyone was mad at Buster for Monty's shenanigans, and Monty took Buster's place as the director, by bribing Edward and Fran. Towards the end of the episode, Monty turned out to be a terrible director and almost everyone wanted Buster back. When Buster returned, Fran and Edward fired Monty and re-hired Buster. When Fran asked Edward what he got her for Christmas, he told her, "The best gift of all, Dear. The gift of Charity.". and put her money into a donation box held by Whoopi Goldberg.
Trivia
It could be said that Fran and Edward are married, as Edward called Fran "Dear" and Fran kissed him emotionally after he stood up for himself.