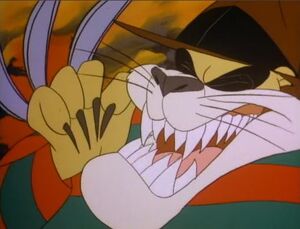 Eddy Cougar is a minor character in Tiny Toon Adventures. He is a villain who appeared in the "Best O' Plucky Duck Day" episode segment "Duck in the Dark". He was voiced by Charlie Adler.
Description
Eddy is a tall (or short in Plucky's dream) Cougar with a brown fedora, a red and green striped sweater, and brown pants.
History
Eddy is known as one of the scariest animal monsters in history. He first appears in a movie where he was about to kill a baby fawn, but just as he was about to, Plucky takes out his videotape before he did the deed. He later appears in a nightmare of Plucky's, as he steps out of the TV and sends him into a TV world of horror movies. After almost being eaten by a shark, Plucky wakes up to find out it was all a dream. However, he later discovered he's still dreaming and is being chased by Eddy. Eddy then chases him into the basement with a large crate of Gunpowder and plans to blow up Plucky and himself. He is last heard laughing evilly while Plucky watches the rest of his movie.
Trivia
Eddy Cougar is an anthropomorphic parody of the legendary killer, Freddy Krueger, from the Nightmare on Elm Street horror film series.

Although being based on Freddy, his claws are similar to those of Wolverine from the X-Men series.
Community content is available under
CC-BY-SA
unless otherwise noted.