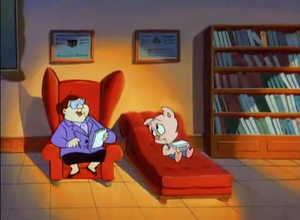 Dr. Ann T. Dote is a minor character in Tiny Toon Adventures. She appears in the "Psychic Fun-omenon Day" episode segment "Class Cut-up". She was voiced by Charlie Adler.
About Ann
Dr. Ann T. Dote appears in Class Cut-up as the Acme Looniversity school psychiatrist. When principal Bugs Bunny sends Hamton to the school infirmary for expecting him to believe that a dead frog (in the form of Michigan J. Frog) can sing, Gogo leaves her office and thanks her. (Presumably, she was trying to make him seem less wacky.) After Gogo tells Hamton that even he doesn't believe Michigan can sing, Dr. Ann T. Dote calls Hamton in. She asks him how long he thought Michigan could sing, but Hamton isn't sure, and asks her what time it is. The minute she leaves her office, Michigan sings. She overhears from outside her office and, like everyone else, thinks it was Hamton who sang. She tells Hamton that he is suffering from a "Merrie Melody", meaning, he wants to sing, but is embarrassed. Hamton tells her that it was Michigan who sang, and tries to get him to sing again, but to no avail. Hamton sings himself and she sends in two muscular guys dressed in white to take him away.
Trivia
Her name is a pun on "Antidote".
The voice that Charlie Adler used for her is the same voice that would later be used for the character of Cow on the Cartoon Network cartoon series, Cow and Chicken.
Community content is available under
CC-BY-SA
unless otherwise noted.