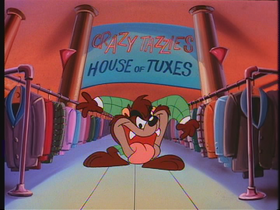 Crazy Tazzie's House of Tuxes is a tuxedo store owned by Taz the Tasmanian Devil. It is where Acme Looniversity students can buy a tuxedo for the junior prom.
Appearances on the Show
Crazy Tazzie's House of Tuxes appears in a commerical in the Season 1 episode, Prom-ise Her Anything. The tuxedo varieties include red, black, plaid, green, feather, white, Friar, and purple. All the tuxedo sizes are gorilla, but Taz can alter the size by gnawing at it (it's also ripped at the back as a result). Taz's slogan is, "Me prices be insane. Me insane! Me nuts!". After the commercial was filmed, Bugs and Daffy captured Taz and put him in a straightjacket.
Community content is available under
CC-BY-SA
unless otherwise noted.