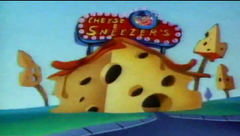 Cheese E. Sneezer's is a fictional restaurant in Tiny Toon Adventures. It is a parody of the popular children's restaurant/arcade Chuck E. Cheese's, with Li'l Sneezer as its mascot.
Appearances on Tiny Toon Adventures
Cheese E. Sneezer's appears in a commercial in the Season 3 episode, Weekday Afternoon Live. During the commercial, Buster and Plucky are bored while Hamton is hungry. Lil' Sneezer appears in a magic bubble and takes them to Cheese E. Sneezer's. There, Hamton tries to eat some pizza, but it is scalding hot. Buster plays basketball, and although he succeeds in making a basket, the ball runs into him. Plucky plays the game Desert Scam, but he gets blown up. Furrball tries his hand at Whack Sneezer, but he keeps missing and Sneezer whacks him instead. When Sneezer serves his friends fresh hot pizza, he sneezes and blows the pizza in Plucky's face, much to Plucky's horror as he screamed in severe pain.
Jingle
At Cheese E. Sneezer's, I can eat a snack,
shoot some hoops, have a game attack,
there's loads of happy things to do,
and Sneezer brings them all to you.
Cheese E. Sneezer's,
where the pizza's scalding hot.
Community content is available under
CC-BY-SA
unless otherwise noted.