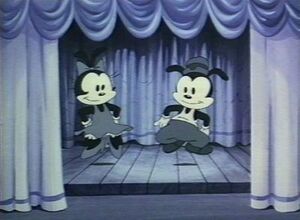 Bosko and Honey are animated cartoon characters created by animators Hugh Harman and Rudolf Ising, both former employees of Walt Disney. Bosko is the first recurring character in Leon Schlesinger's cartoon series, and is the star of over three dozen Looney Tunes shorts released by Warner Bros. He was voiced by Carman Maxwell and Johnny Murray during the 1920s and 1930s, and once in Tiny Toon Adventures by Don Messick during the early 1990s.
Honey is Bosko's girlfriend who becomes the mentor of Babs in the Tiny Toons episode, "Fields of Honey".
Debut
In 1927, Harman and Ising were still working for the Walt Disney Studios on a series of live-action/animated short subjects known as the Alice Comedies. Hugh Harman created Bosko in 1927 to capitalize on the new "talkie" craze that was sweeping the motion picture industry. Harman began thinking about making a sound cartoon with Bosko in 1927, before he even left Walt Disney. Hugh Harman made drawings of the new character and registered it with the copyright office on 3 January 1928. The character was registered as a "Negro boy" under the name of Bosko.

Harman was also partially responsible for creating Oswald the Lucky Rabbit and his little brother Mickey Mouse.
He first appeared in an unreleased pilot film called "Bosko the Talk-Ink Kid", which was created by Harman and Ising as a tool to sell the idea of a Bosko series to Hollywood film distributors. It was Leon Schlesinger who convinced Warner Bros. to distribute the series, with him acting as the middle-man. The series was named Looney Tunes, and the first entry, "Sinkin' in the Bathtub", premiered 19 April 1930.
Bosko (voiced by animator Max Maxwell) is a more-or-less human version of Mickey Mouse. At first, he displayed some characteristics of a stereotypical African-American, though he is probably best categorized as a nondescript living blob of ink. He appeared in a wide variety of roles, including big-game hunter, construction worker, hobo, Mountie, hot dog vendor, and World War I aviator.
His girlfriend Honey, voiced by actress Rochelle Hudson, was not nearly as versatile. She existed mostly to accompany Bosko on his adventures, and to use her feminine wiles to add more substance to the plot. Nevertheless, she always stuck by Bosko, and was not shy about giving him an occasional kiss. If Bosko tried anything more however, Honey would probably smack him in the face.
Looney Tunes
Schlesinger saw the Harman-Ising test film and signed the animators to produce cartoons at their studio for him to sell to Warner Bros. Bosko became the star vehicle for the studio's new Looney Tunes cartoon series. Bosko wore long pants and a derby hat, and usually accompanied by Honey and a dog named Bruno. He was also sometimes accompanied by an orphan cat named Wilbur and an often antagonistic goat, particularly in early cartoons.
Bruno, the Pluto-like dog Bosko discovered on a hunting trip, was a less than faithful companion. He caused Bosko much dismay by sadistically faking his death on more than one occasion. Wilber, the little kitten Honey gave music lessons to, also tagged along once in a while. Wilber was very good at causing Bosko much distress, either by getting into dangerous situations, or by being just plain cruel.
MGM
Bosko appeared in thirty-nine Looney Tunes, but it couldn't last forever. Harman and Ising left Warner Bros. in 1933, and since they retained ownership of him, they took Bosko with them to MGM. Bosko returned in late 1934 as one of the recurring characters in Harman-Ising's Happy Harmonies series. These shorts were done in color, but not much was done to Bosko except to give him a red shirt and blue pants. Bosko appeared in only nine Happy Harmonies before he was retired in 1938.
Tiny Toons
Bosko makes a surprise appearance in a 1990 episode, "Fields of Honey", of the television series Tiny Toon Adventures, in which Babs Bunny, after being told by the Acme Looniversity's mysterious vaultkeeper about Honey (voiced by B. J. Ward), is led by a mysterious voice to build a theater that shows nothing but cartoons of Bosko's girlfriend, Honey. Babs does so, and the resulting audience laughter rejuvenates the ailing Honey and reveals the voice, as well as the vaultkeeper to be none other than Bosko (voiced by Don Messick) himself.
Curiously, the cartoon depicts Bosko and Honey as dog-like creatures similar to the lead characters of the later TV show Animaniacs, presumably so as not to offend viewers with the original black-face characterizations. Another reason may be that this episode served as a "bridge" between Tiny Toons Adventures and Animaniacs. Not only are Honey and Bosko redesigned to be dog-like characters, but Honey is funnier and has more personality.
Gallery