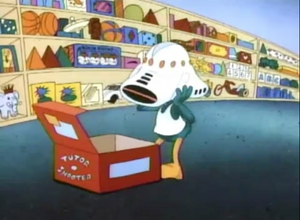 The Acme Tutor Shooter is a Acme Product that was shown in the episode Playtime Toons segment Happy Birthday Hamton.
Design
It's design to allow the wearing to play a game where all you have to do is to shot laser onto the tutors (who kinda almost look like Granny) and if you win, you get a free hall pass.
History
While searching for a present for Hamton, Plucky found the Acme Tutor Shooter and tested it out. After purchasing it Plucky, along with Buster and Babs refuse to give their new toys away and decide to give Hamton on of their old ones. For Plucky he was about to part with his old baby blanket. However after seeing hamton us it as a cape, Plucky, along with Buster and Babs, rush home and decide to give their new toys for Hamton.
Community content is available under
CC-BY-SA
unless otherwise noted.