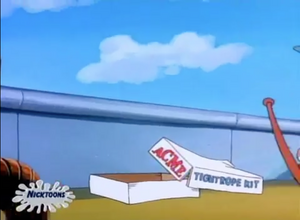 The Acme Tightrope Kit is an Acme Company Product that was purchased by Calamity Coyote in the Career Oppor-Toon-ities episode segment, Falling to Pizzas.
Design
The Tightrope kit is shown to be a simple kit that has a tightrope, and a stick used to balance the one who walk the the rope.
History
Calamity uses this kit in a attempt to snag free pizza from Little Beeper, who is making his runs. While on the tightrope, Calamity also uses a hook to snag the pizza, but instead of a pizza, he snags a taxi, which causes him to be pulled up to the point where he almost gets hit by a wall, but instead gets smashed by a truck.
Gallery
Community content is available under
CC-BY-SA
unless otherwise noted.